Long Beach, California, offers beautiful seaside scenery that is just half an hour away from Los Angeles. This coastal beauty is a location that you absolutely must visit whenever you find yourself in the area due to its beautiful beaches, marinas, and vast shopping and dining scene. In today's article, we are going to take a look at some of the best Long Beach hotels in which you can stay when visiting.
The Beauty of Long Beach lies in its cultural variety and rich history. It is home to sandy beaches, attractive parks, and jaw-dropping street art. Regardless of where you are coming from and what you like, there is something for everyone in this California gem. So, without further redo, let us check the best hotels that you can find in Long Beach.
1. Hyatt Regency Long Beach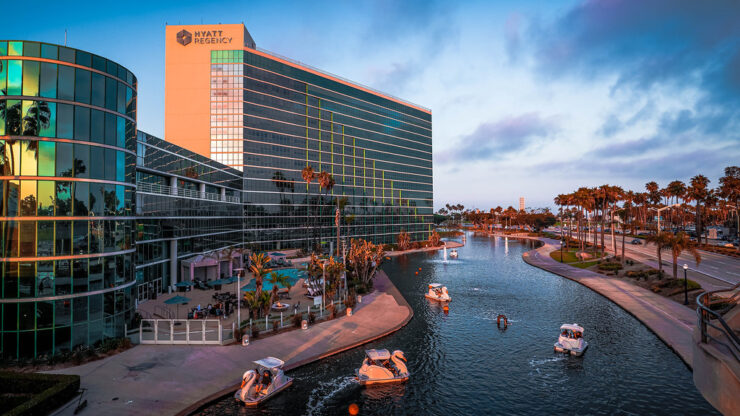 This beautiful and luxurious hotel is located on a premier waterfront placed in the heart of downtown. It is a 4 Diamond Award-winning Long Beach hotel with all 531 rooms and suites that offer exceptional decor and beautiful ocean and harbor views.
The hotel features an outdoor pool, which is a refreshing alternative to the ocean. This establishment is a great choice for everyone that looks for the equivalent of a 5-star hotel at a budget accommodation. Its location is suitable for easy travel since it is very close to Southern California's main attractions, such as Disneyland, Aquarium of the Pacific, Universal Studios, and many more.
2. Hilton Long Beach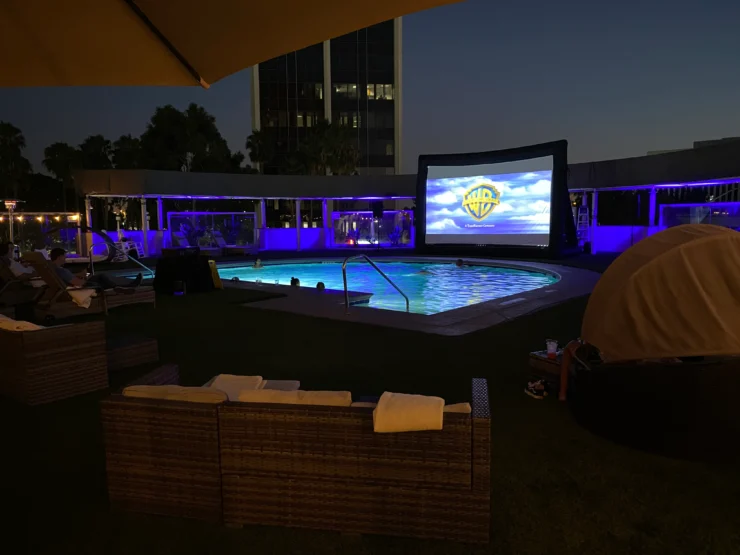 Hilton Long Beach is one of the most luxurious oceanfront hotels you can find in this beautiful California town. It is part of the World Trade Center Long Beach Complex, and it was rebuilt last in 2016 under Hilton Hotels & Resorts. The hotel boasts over 30,000 square feet of land, and it is exceptional for business or pleasure trips alike.
It is one of the best-reviewed hotels in Long Beach, mostly due to the variety of activities you can take part in as a visitor. It is located on Ocean Avenue, which is just a couple of blocks away from the Long Beach Convention Center, where you can visit various restaurants and shopping locations. If you take a 22-mile ride along the coastal bike path, you can also enjoy a relaxing ride in one of the Fuji Cruisers.
3. Renaissance Long Beach Hotel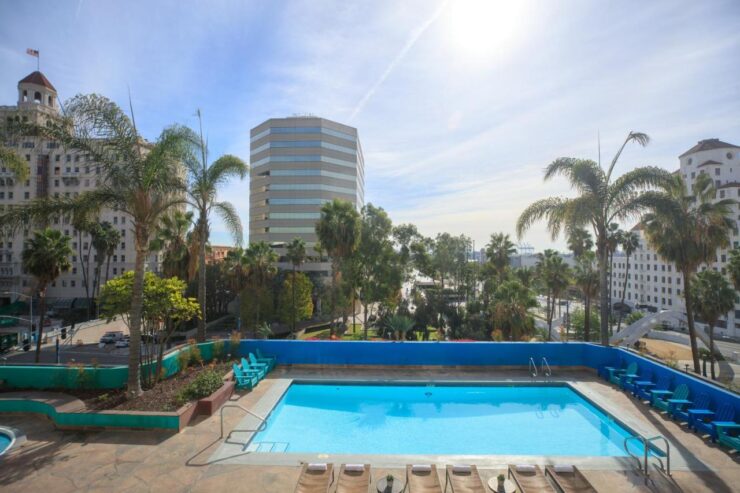 Perfect for sightseeing, this modern hotel on Long Beach is just a few minutes away from the ocean. It is great for adventurers and explorers that enjoy beautiful coastal sights and cultural attractions. When you find yourself in this area, make sure to visit the Museum of Latin American Art.
This four-star hotel offers beautiful and modern rooms and suites with views of the city and harbor. Attractions that you should visit in the area are the Aquarium of the Pacific and Shoreline Village. The hotel provides a beautiful and relaxing experience, and the sunsets seem to last for hours. There are rooms for different budgets, so make sure to stop by when visiting Long Beach.
4. Hyatt Centric The Pike Long Beach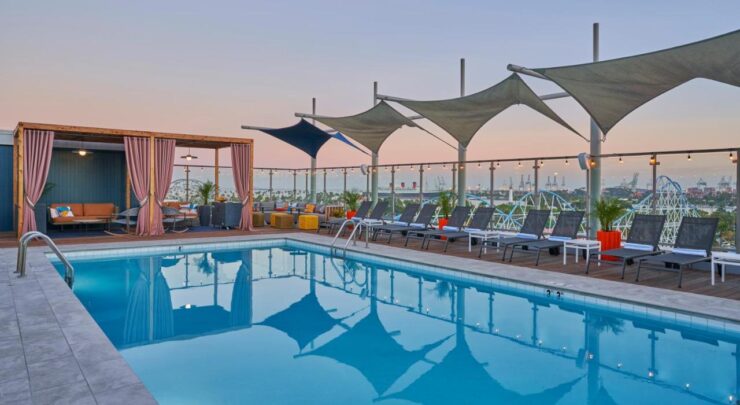 This pet-friendly hotel is located in the downtown waterfront district and offers four-star accommodations and a relaxing experience. It is just minutes away from some of the sandiest beaches in the area, local shops, restaurants, and live music on Pine Avenue.
If you prefer something different from award-winning restaurants, Hyatt Centric also has its own Bay Street Kitchen, with delicious entrees for breakfast and dinner. There is also a rooftop pool where you can lay back and relax while also providing an amazing spot to watch sunsets. If you like to remain active during your vacation, there is a 24-hour fitness center, fully stocked with modern weights and cardiovascular machines.
5. The Westin Long Beach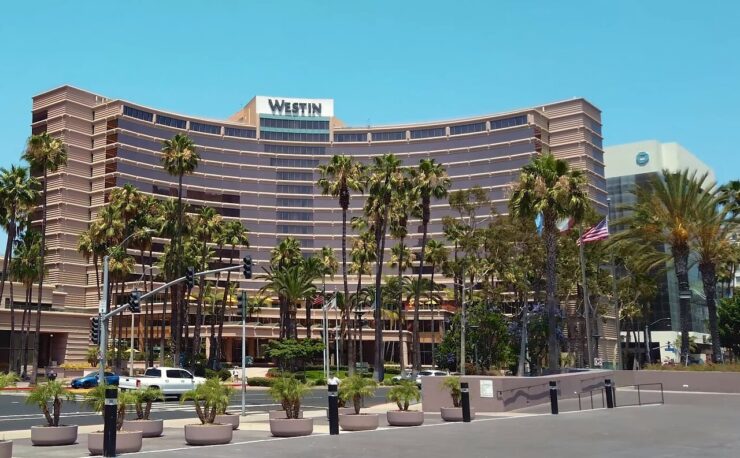 Located on Ocean Boulevard, The Westin is a four-star hotel great for business and professional travel. It boasts modern decor and luxurious accommodations, and each guest room and suite has ergonomic workstations, comfy furnishings, and top-notch internet.
You can also work out in a naturally lit fitness studio and keep your exercise routine on schedule. There is also a heated outdoor pool, where you can take a break and relax in the downtime between your work engagements.
6. Residence Inn by Marriot Long Beach Downtown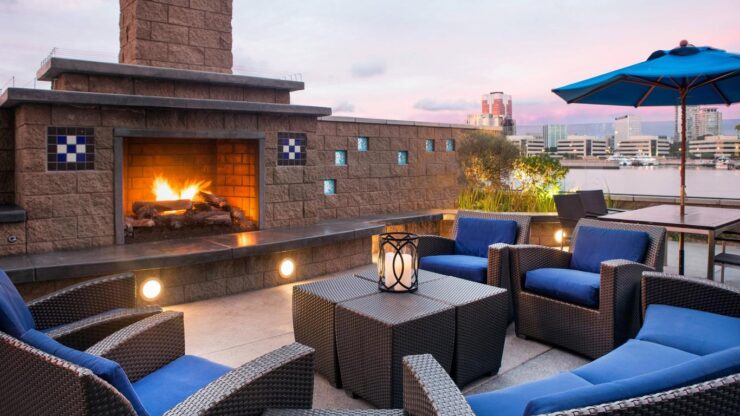 This residential-style, all-suite hotel is a mile away from Long Beach Airport. It was constructed in 2009 by Marriot International and hosts 178 luxurious and beautiful suites alongside function halls. The hotel room prices are excellent, and the location is very convenient.
One of the great things about this location is that it allows easy access to the Long Beach Convention Center, The Queen Mary, and various world-class theme parks and shopping locations. If you are gourmet and enjoy delicious meals, you can visit some of the finest restaurants nearby.
7. Hotel Maya – A DoubleTree by Hilton Hotel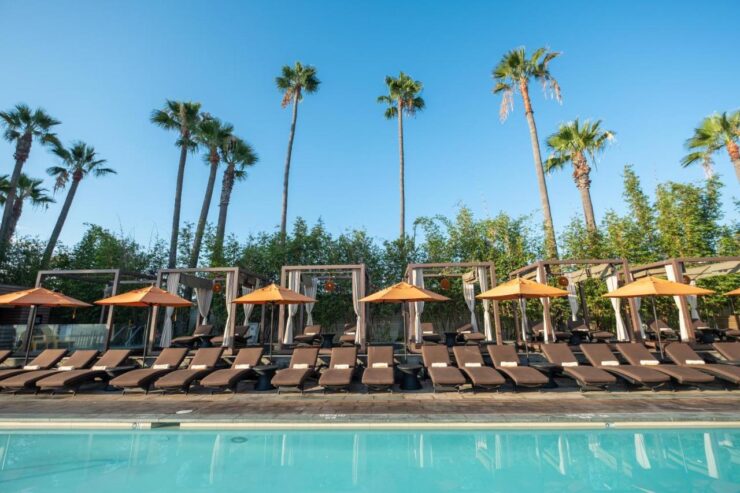 Hotel Maya is a luxurious and modern boutique hotel that offers comfy accommodations and modern decor. The things that you immediately notice about this facility are the Latin-American theme and eye-catching colors that add to the whole tropical vibe.
The hotel offers an exceptional getaway in an interesting neighborhood. There are bicycle rentals, outdoor swimming pools, paddleboards, sailing boats, and walking paths near Downtown attractions. The hotel boasts nearly 200 guest rooms and suites that were recently renovated with an interesting and charming tropical touch.
8. Holiday Inn Long Beach Airport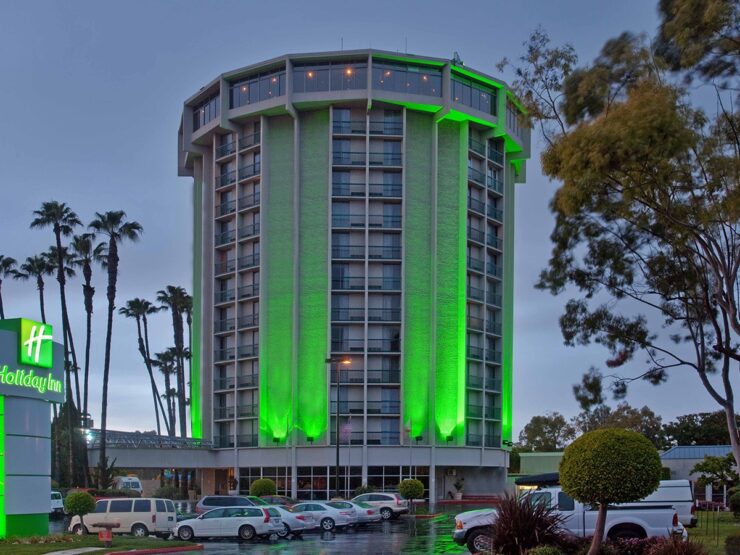 The Holiday Inn Long Beach Airport is located half a mile away from the Long Beach Airport and five miles away from downtown Long Beach. In this area, you can find numerous regional attractions, the convention center, the Carnival cruise port, and much more.
This facility features a modern mid-century ambiance with lovely vistas and superb culinary dishes you can enjoy at the top of the tower. There is also a fitness center if you want to stay active during your stay and a business center that provides all the tools you need to stay productive.
9. Hotel Current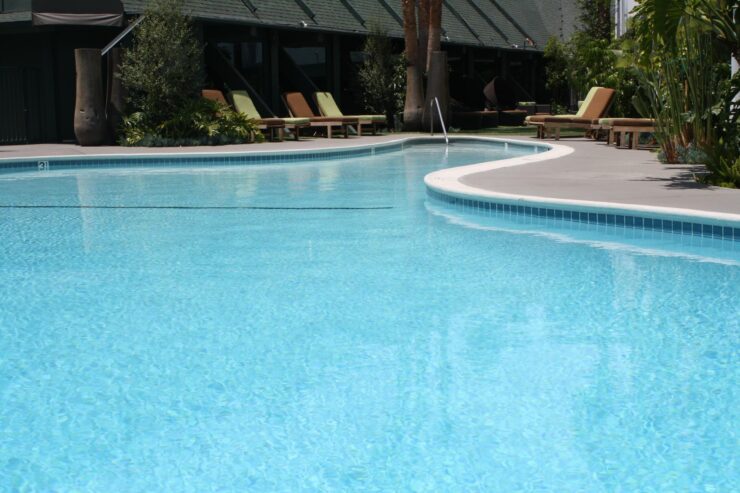 This eco-friendly hotel features 99 spacious rooms for the guests that offer contemporary decor and a beautiful atmosphere. Its location is very convenient since you can get to a range of popular destinations very fast and easily.
The rooms are environmentally aware and feature eco-friendly materials, hand-painted artwork, and little creative details that grant a truly unique and fulfilling staying experience. It is an interesting hotel that you should definitely check out when visiting.
10. The Queen Mary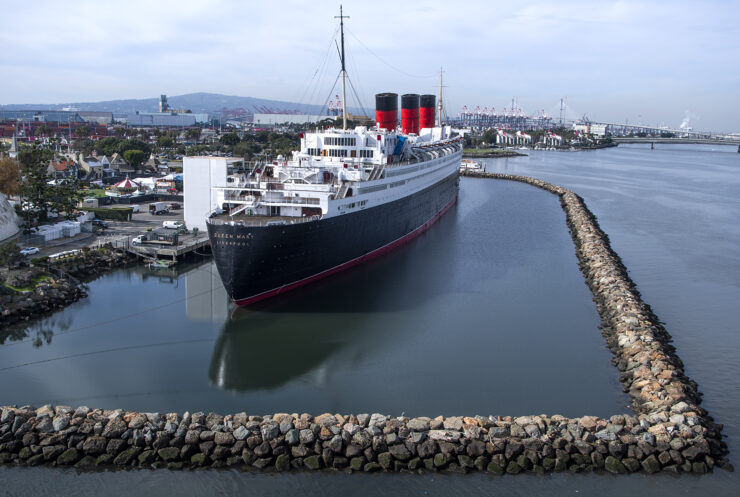 The Queen Mary is a permanently docked cruise liner with luxurious accommodations, and it is the perfect place to stay for couples due to its romantic overnight experience. This unique hotel features over 340 rooms and suites that are historically preserved to represent the 1930s prime of the ship.
The boat has numerous activities in which you can participate while spending the night, and you can also go on guided tours that are available through the hotel and explore a bit further. If you want to enjoy a delicious meal, drop by Sir Winston's Restaurant and Lounge. In case you are a night person, there are entertaining night performances and special tours you can participate in.
Final Words
From family-friendly hotels to romantic getaways, Long Beach has a lot to offer. There are accommodations for every budget, so if you plan to spend a weekend or entire vacation in this area, consider visiting hotels from our list, and we guarantee that you will not be disappointed.