It is no surprise that vegans often get the short end of the menu stick on vacations and holidays. Everyone should be able to get the chance to pick some quality food regardless of their diet. However, struggling to find the proper vegan food is something you will not encounter in Long Beach, which is considered a vegan paradise. So, today we will talk about the best vegan restaurants Long Beach (California) that you can visit.
Long Beach is an attractive tourist location and has countless attractive places where you can dine on some of the most delicate dishes. There are multiple vegan meetups in which you can participate, and there is also the annual Long Beach Vegan Festival, where you can enjoy a vegan chili cook-off. Today we will focus on restaurants, so without further redo, let us start.
1. Sura Korean BBQ & Tofu House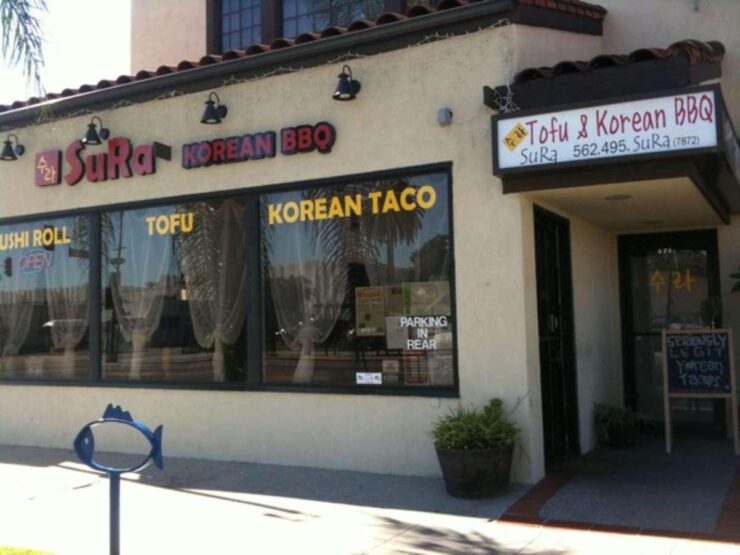 Sura is a Korean family-owned restaurant that strives towards bringing its guest an authentic experience of Korean cuisine. One of the most popular and praised dishes from this restaurant is tofu soup, and the signature KBBQ is a must-try.
The overall atmosphere is very pleasant, and the staff is friendly and helpful. It is a vegan-friendly restaurant where you can find a variety of delicious vegan dishes with a touch of some exquisite spices. If you find yourself in Long Beach craving some fine vegan food, this is a place that you should definitely visit.
2. The Grain Cafe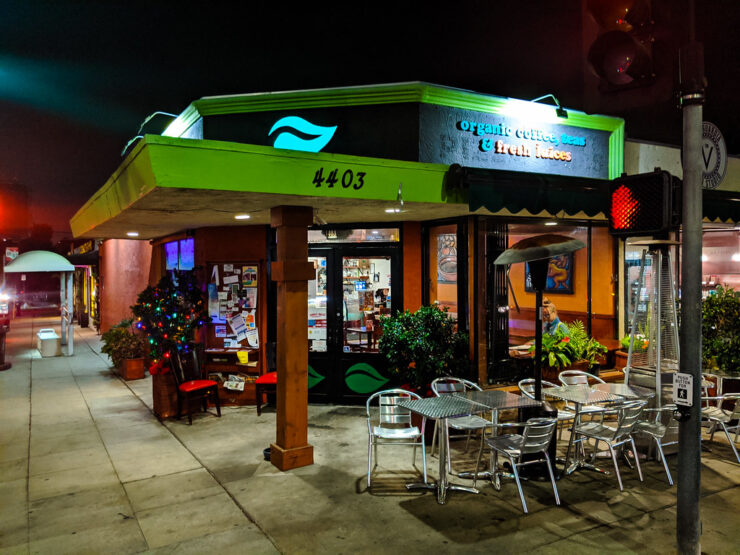 With a wide variety of burritos and pizzas on its menu, The Grain Cafe is one of the most popular vegan restaurants in Long Beach. The pizzas are absolutely delicious, and you can pick from a deep list of desserts made exclusively from organic veggies.
You can try multiple delicious vegan meals that also come with affordable price tags. The guests praise the restaurant's Mexican dishes and Mediterranean food, so if you find yourself at 4403 E 4th St, check this place out.
3. Vegan Castle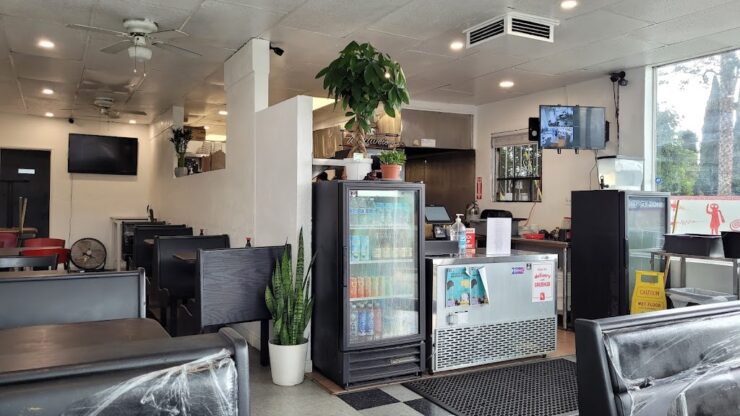 The Vegan Castle is one of the most praised vegan sushi restaurants. The customers highly recommend trying long beach roll, red dragon roll, dragon roll, ocean roll, and rainbow roll, which are only a few entries from the rich and colorful restaurant's menu.
The prices are pretty good for the vegan sushi restaurant, and the service is friendly and helpful. The wait time after the staff takes an order is between 15 and 20 minutes which is pretty fast, and the overall atmosphere is quite cozy and relaxed.
4. Veggie Grill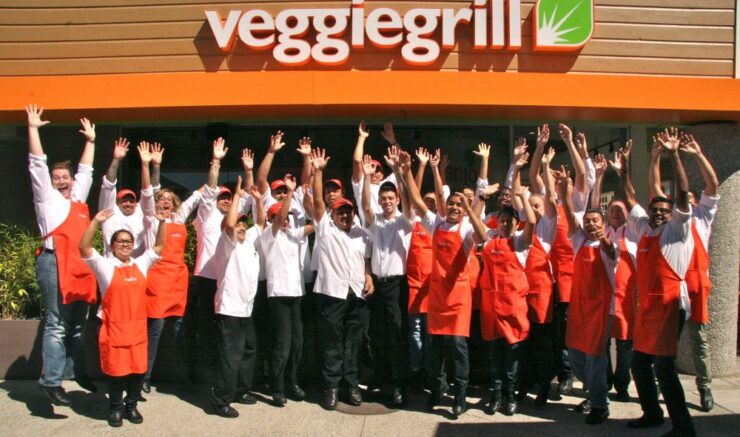 Located at 6451 E Pacific Coast Hwy, Long Beach, this plant-based chain was founded back in 2007, with its first location in Irvine, California. The restaurant offers a variety of burgers, sandwiches, salads, bowls, and many more.
The restaurant's main focus is on sustainability and healthy eating without sacrificing the enjoyment and delicious ingredients. The visitors highly praise the carrot cake and sweet potato fries with the chipotle sauce. The service is friendly, and the restaurant offers a comfortable overall experience.
5. Ahimsa Vegan Cafe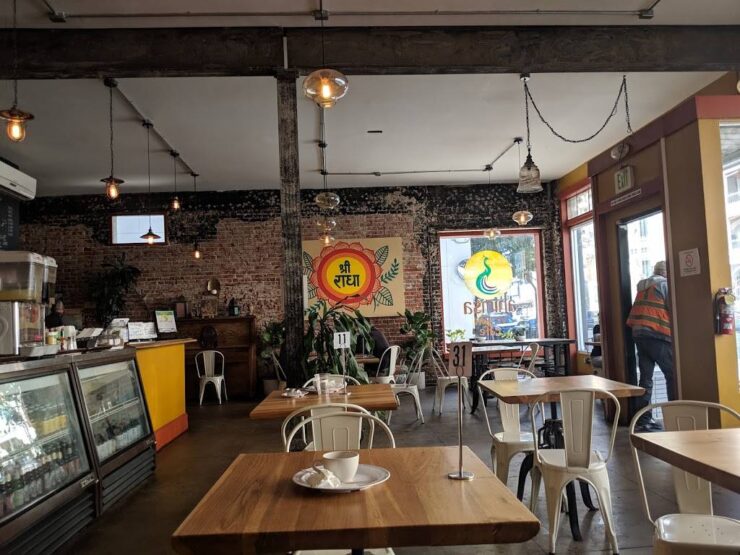 The Ahimsa Vegan Cafe is a location where you can enjoy vegan food with some of the freshest and most delicious organic ingredients out there. Most of the ingredients for their sauces, dressings, and condiments are organic, and bread and pastries are made with unbleached flavors.
The most popular dishes that you should definitely try when visiting are Hemp Tempeh Salad, Hemp Kale Bowl, and Vietnamese Spring Rolls. Water it down with delicious homemade ginger mint lemonade or hibiscus flower iced tea.
6. Appu's Cafe
With superior service and personalized attention, Appu's Cafe specializes in healthy vegetarian and vegan food. The menu of the restaurant includes a variety of healthy and delicious meals, including tacos, burritos, soups, and salads.
When visiting, you should try Indo-Mexican fusion or the Maraja burrito, as they are some of the most praised and popular entries on the menu. In addition, the Maraja burrito was rated The Best Burrito in California, according to the Insider website.
7. Hart N Soul Vegan Cafe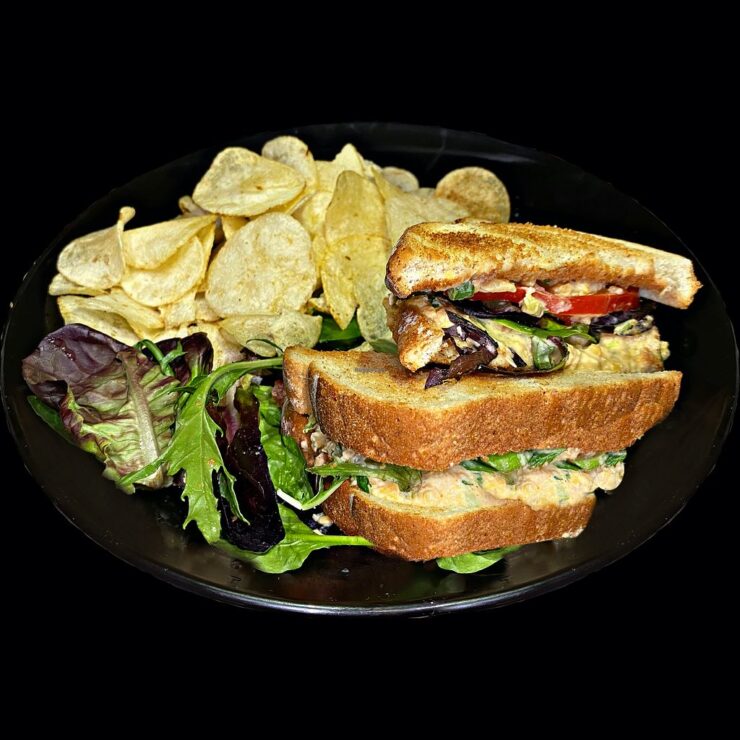 Located at 6675 Orange Ave, this vegan restaurant is unlike any other. It offers a variety of delicious vegan meals and brings the best flavors in foods you would never think you would enjoy. The meals are made with alkaline-based ingredients that grant that authentic and special flavor.
The food is inspired by Dr. Sebi, who was an herbalist, pathologist, and naturalist. He dedicated his life to the pursuit of natural plant-based approaches for health management and disease prevention, which is a model that the restaurant bases its work on to this day.
8. Hungry Angelina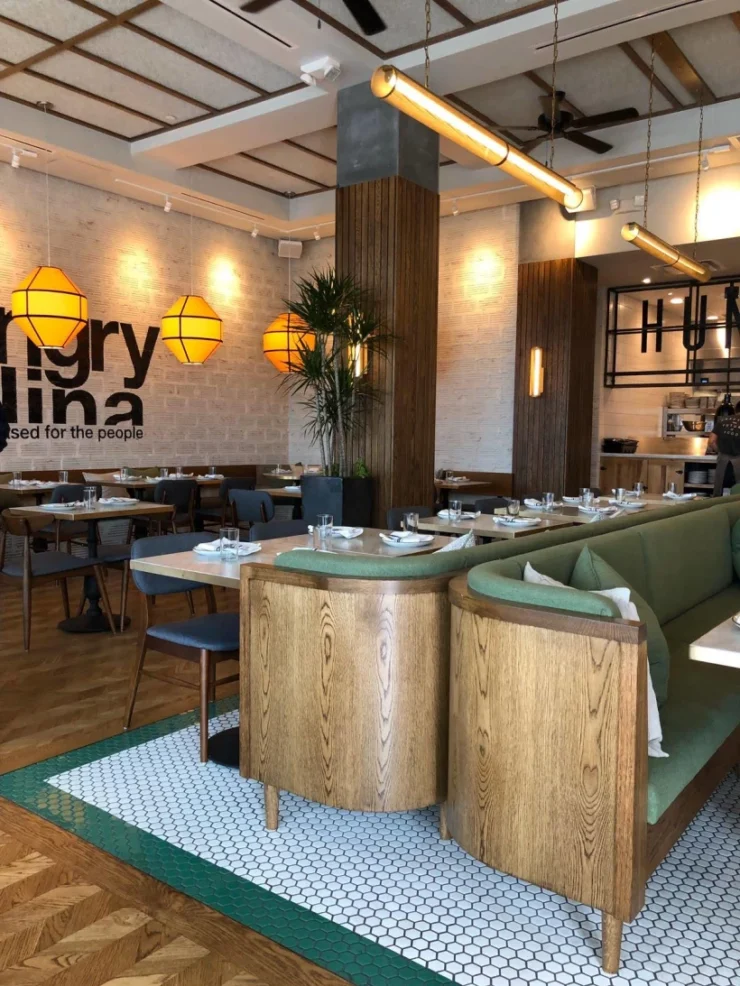 The Hungry Angelina is a vegan restaurant located in an adorable outdoor shopping center. The restaurant itself is very cute and trendy, while the staff is very serviceable, friendly, and attentive. The menu offers various vegetarian and vegan dishes with some authentic and fresh flavors.
The entry from the menu you should give a go is the avocado toast, which is very tasty and gives a unique spin on a pretty standard dish. Fried pickles, nachos, and buffalo cauliflower are a couple of very tasty dishes as well, and given the fact that they come with affordable price tags, you should definitely check this place out when visiting Long Beach.
9. Vburger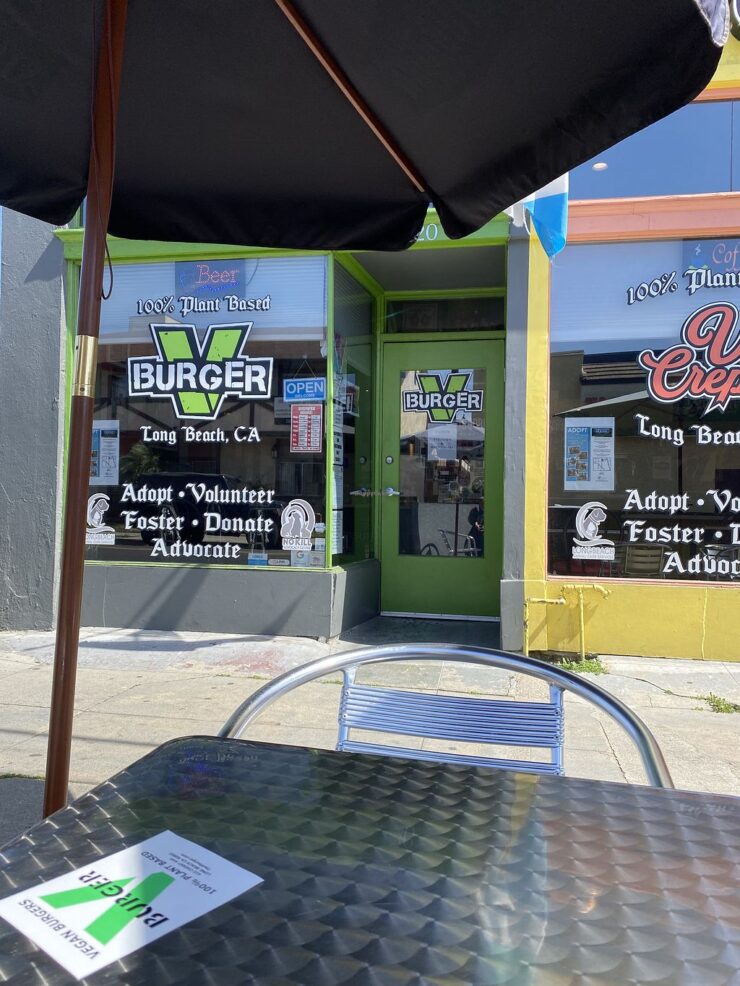 Vburger is a restaurant located at 420 Cherry Avenue, Long Beach. The owners decided to create burgers that are completely vegan without sacrificing the great taste and satisfaction that meat burgers provide. It promotes an alternative to meat burgers without losing taste.
Some of the popular dishes from the menu are Staying Alive Burrito, Tu-Nah Wrap, Taco Salad, Ish Burger, and Jalapeno Burger. The chefs are not shy at making their food tasty and a little spicy. The overall experience is amazing, and the atmosphere is cozy and friendly.
10. Tocaya – Long Beach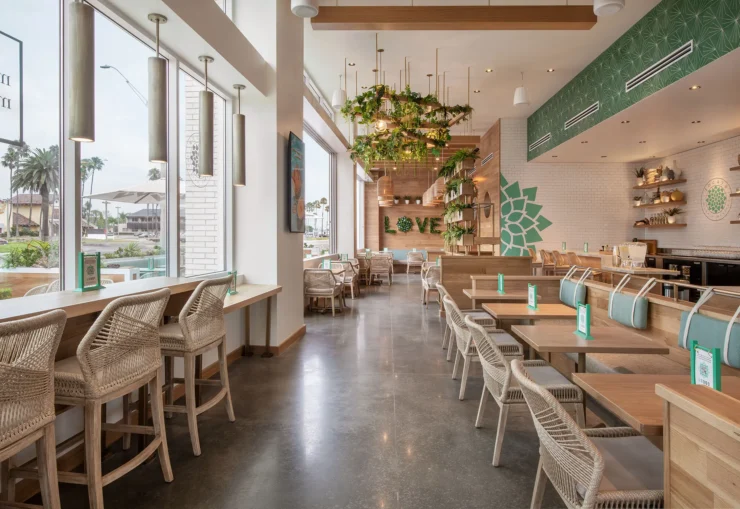 The Tocaya is an amazing vegan restaurant offering salads, tacos, burritos, bowls, and quesadillas in a sophisticated, cozy, and fresh setting. The menu is quite versatile and rooted in traditional Mexican cuisine, accommodating vegans and vegetarians.
Food is reasonably priced, and a lovely patio with lights, heat lamps, and relaxing music make a comfy atmosphere and great aesthetic overall. One of the most popular dishes on the menu is Mexico Burrito Asada, and it comes with a really good spicy sauce that complements the flavors of the burrito.
Final Words
Long Beach is truly a vegan paradise, as so many visitors praise it for being. From Mexican to Mediterranean cuisine, you can find something that will suit everyone's taste, and even if you are not vegan, you should give these restaurants a shot since they serve mouth-watering, delicious dishes.
We hope our list of best vegan restaurants in Long Beach will provide you with sufficient pieces of information and that you will find your favorite among them. When you get a chance to visit Long Beach, take some time to leave the hotel, and check some of these places out. We guarantee that you will not be disappointed.