Long Beach is a city in Los Angeles County in Southern California facing the ocean and attracting tourists from all over the world daily. Its main attraction is the ocean, but there is so much to this city in nature, culture, and pure entertainment. Today, we will talk about what to do in Long Beach, California, and where to spend some productive and fun time.
There is so much to do in this beautiful city aside from aquatic adventures. You can visit beautiful regional parks, gardens, inland downtown district, and everything that bursts with a community flavor. Basically, Long Beach is an excellent place to experience the beauties of the California lifestyle in multiple layers. We are here to help you with this, too, since we have made a list of some of the most entertaining activities you can participate in. Let's start.
1. Spend a Nice Sunny Day at Junipero Cherry Beach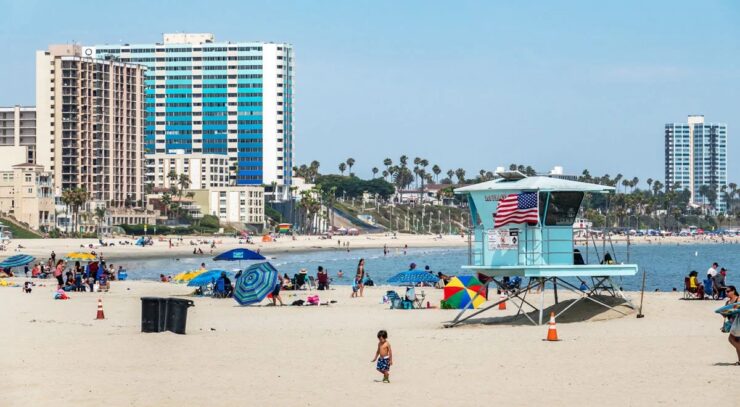 Junipero Cherry Beach or Long Beach City Beach is one of the best spots to access the ocean in this beautiful city. The beach is located below Bluff Park and Ocean Boulevard, so the location is super convenient, especially for tourists who are visiting for the first time.
You can easily park along Ocean Boulevard and access the beach using different stairways and graded ramps throughout Bluff Park. One of the most popular activities at the beach is traveling the entire Shoreline Pedestrian Bike Path. If you want to swim, make sure to check the water conditions, as ocean water can be quite freezing even on the warmest of days.
2. Visit the Aquarium of the Pacific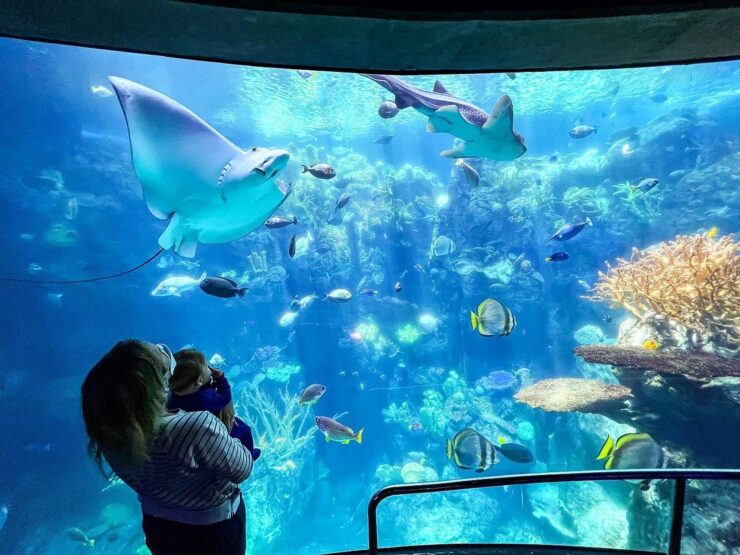 If you are a fan of aquatic life and enjoy spending time around aquariums, then visiting the Aquarium of the Pacific is a must-do when you find yourself in Long Beach. It is located on Downtown Waterfront, boasts approximately 100 exhibits, and is a home for over 12.000 ocean animals.
This is by far the largest aquarium in Southern California, and countless tourists visit it every year to marvel at these exhibits of the nearby Pacific Ocean. It also offers something for both adults and children, including the family-favorite June Keyes Penguin Habitat, which is home to twenty Magellanic penguins.
3. Enjoy Water-Adjacent Landscape at Downtown Waterfront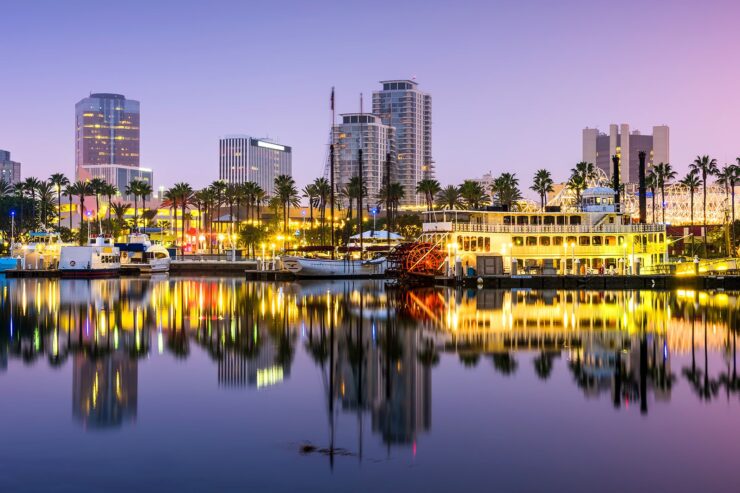 Overlooking Queensway Bay on the south side of the city, Downtown Waterfront is often one of the first places the tourists and locals go to for entertainment. This area is packed with numerous tourist attractions like the Aquarium of the Pacific we just mentioned and the Long Beach Convention Center.
It is a perfect place to take some scenic walks and soak in all the beauties Long Beach carries. Some of the cool activities in Downtown Waterfront include sightseeing at Shoreline Aquatic Park and shopping at Shoreline Village.
4. Shop, Dine, and Enjoy Nightlife at Downtown Long Beach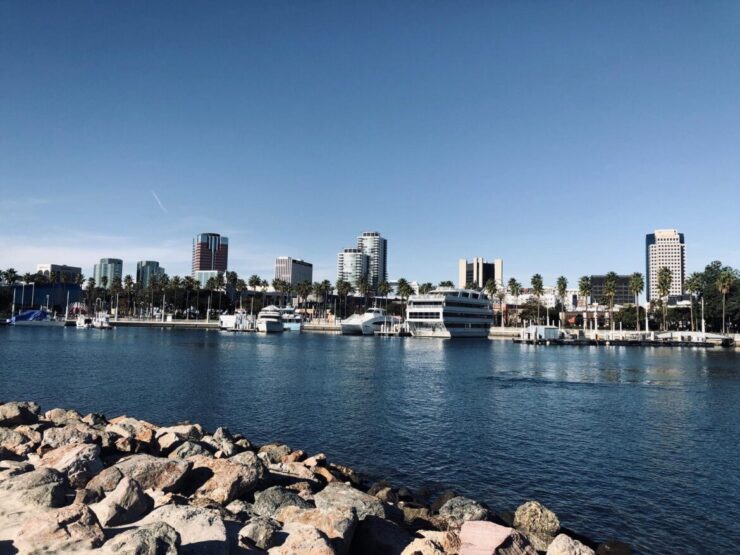 Downtown Long Beach offers a wide variety of possibilities when it comes to different shapes and forms of entertainment. If you are looking for a fine place to dine, visit Pine Avenue, which offers numerous international flavors at local eateries, among which some of the most popular include George's Greek Cafe and L'Opera Ristorante.
This location is packed with excellent restaurants and hotels, so there is plenty to do around for tourists. The downtown district offers plenty of space for relaxing strolls, and it is designed with cyclists in mind, with well-marked lanes.
There are also some major events that occur in the downtown area, such as the Long Beach Art Walk and Grand Prix of Long Beach. The nightlife is also very active, and there are countless clubs, bars, and restaurants where you can spend some quality time.
5. Visit Shoreline Village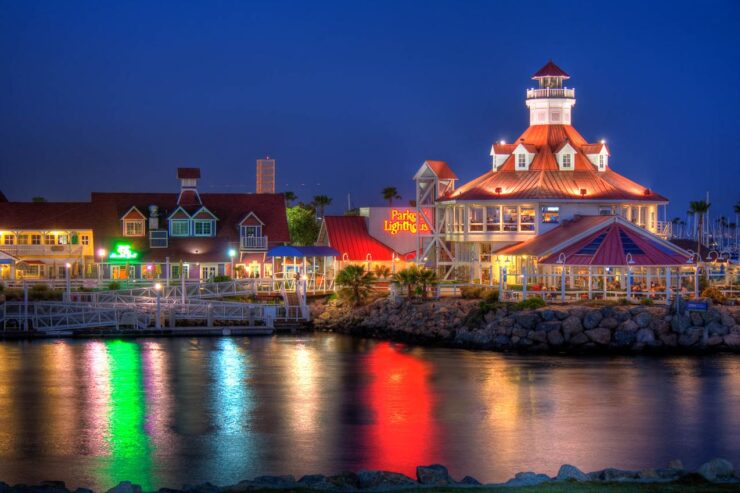 This charming village is a collection of cool restaurants offering delicious dishes and shops that overlook Rainbow Harbor on the downtown waterfront. It is a central hub for countless activities, among which some of the favorites are bike rentals, harbor cruises, and rides on a carousel.
If you have a craving for fresh seafood, drop by Parker's Lighthouse, and if you are more into some more casual experience, make a reservation for a place like Louisiana Charlie's. Most of the restaurants in Shoreline Village feature waterfront dining, so you will be able to experience the Long Beach atmosphere at its best.
6. Hop Aboard Gondola at Naples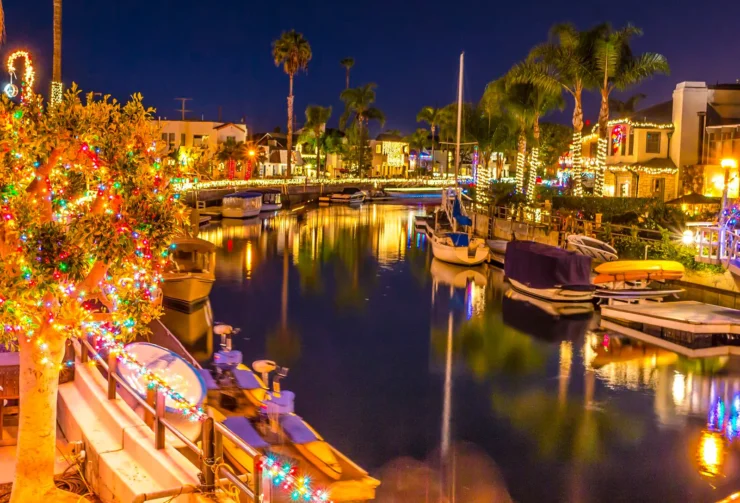 Overlooking the Pacific Ocean, Naples is a beautiful southern neighborhood in Long Beach that offers some of the prettiest views you will see in the city. Naples is built on three islands lined with some picturesque canals that are a real treat for all photography enthusiasts out there.
At the center of Naples, you will find a landscaped plaza and decorative fountain surrounded by some expensive homes and streets with names reminiscent of the Italian spirit of the neighborhood. One of the best ways to explore it is by hopping aboard a gondola via the Gondola Getaway.
7. Walk Your Pet at Rosie's Dog Beach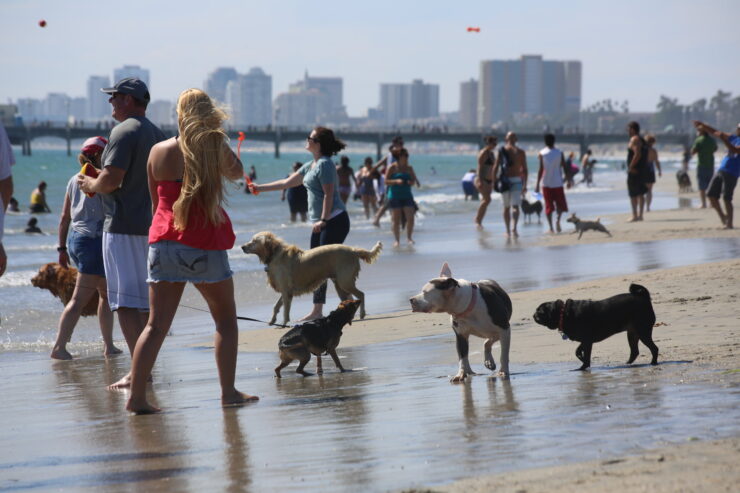 Rosie's Dog Beach is a part of a long stretch of sand on the southern border of the city. The beach itself is sitting on the far eastern part, situated beyond the Belmont Pier, and it offers a picturesque ocean scene that every photographer will appreciate.
What makes this beach such a popular place among tourists and locals is its pet-friendly status. However, it is not fenced in like a traditional dog park because visitors must have voice control over their pets. Pet owners are also required to bring their own bags, but some are available on the beach as well.
8. Visit Walter Pyramid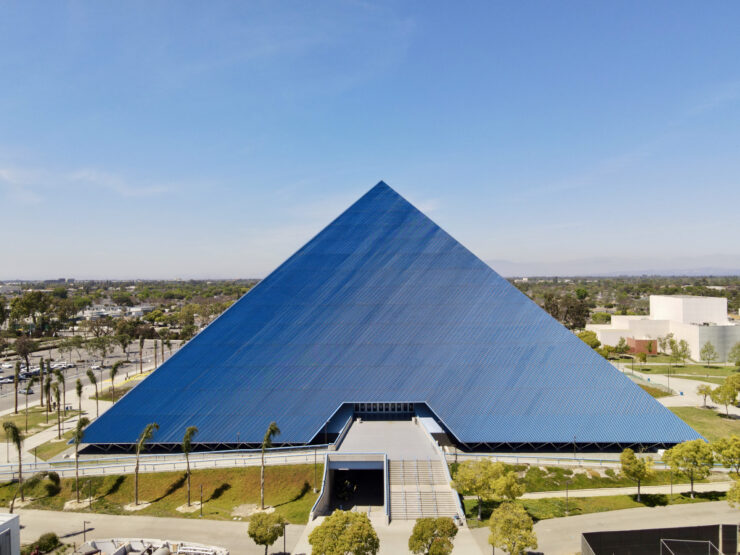 Walter Pyramid is a standout building on the California State University campus that houses around 38.000 students. It is a cobalt blue, over 18 stories high state-of-the-art structure which is home to multiple athletic programs such as Long Beach State basketball and volleyball for more than two decades.
When you find yourself in this area, make sure also to visit Earl Burns Miller Japanese Garden, as it is another notable place on the campus well worth your time. It is a huge landscaped location featuring a hybrid of South California horticulture and traditional Japanese landscaping.
9. Check Out the Pieces at the Long Beach Museum of Art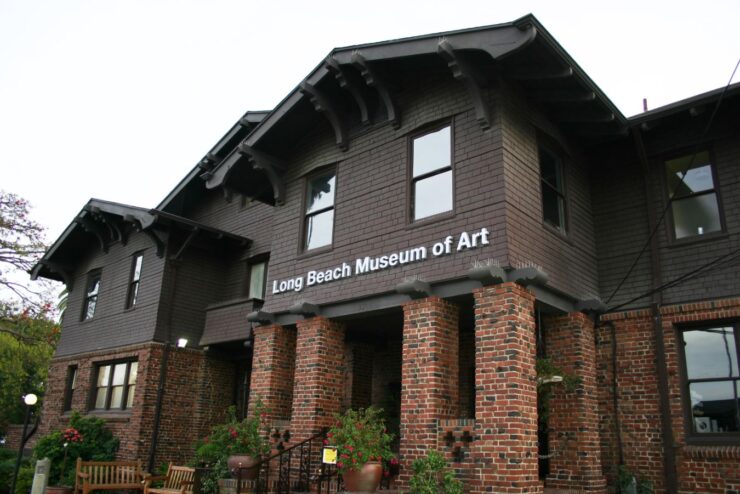 Located on the north end of Bluff Park, the Long Beach Museum of Art is a century-old establishment overlooking the ocean. Some of the best pieces in the museum are American decorative art, regional contemporary art, and early 20th-century European art.
Although most of the art in the museum on display is part of the permanent collection, there are also rotating works from regional and national artists. You can take a tour from Tuesday through Sunday, and there is also free admission offered every Friday. If you get hungry before or after the tour, you can visit the museum's restaurant, Claire's.
10. Board The Queen Mary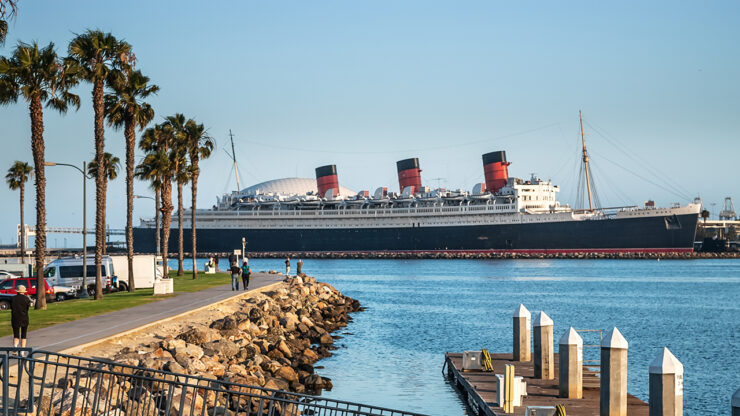 Although the Queen Mary is under repair and closed to the public until the end of 2023, it is one of the grandest ocean liners ever to navigate the Pacific Ocean. It first set sail in 1936 from Southampton, and thousands of tourists boarded it. This is also a luxury cruise liner that participated in the Second World War.
Nowadays, the Queen Mary is permanently docked in Long Beach in Queensway Bay. What is surprising is that this ship has seen more passengers as a retired vessel than as an active ocean liner. When it is active, the Queen Mary hosts various special events, and once the repairs are done, make sure to stop by.
Final Words
This concludes our top ten list of interesting activities you can take part in on Long Beach. It was rather difficult to pick only ten since the city is packed with fun activities and locations that every curious tourist would appreciate.
When you find yourself in Long Beach, stop by some of the locations we have listed. In case you do not know where to stay or dine, check out our articles about the best restaurants and the best hotels in Long Beach. You are sure to find excellent accommodations on these lists and for different budget limitations at that.